Lyme Disease is a vector born bacterial disease.  A corkscrew-shaped bacteria, Borrelia burgdorferi, of the spirochetes family, is the pathogen behind the disease. The causative agent is named after the researcher Willy Burgdorfer, who first isolated the bacterium in 1982.  Lyme Disease is transmitted primarily by ticks, mosquitoes and other blood sucking insects.
Lyme Disease is difficult to diagnose, treat, understand, and live with.  Lyme Disease is rarely the only infection transmitted by the bite of a tick or other disease carrying insects.  There are many Co-infections, as well as the Lyme bacteria itself, that can be transmitted from a single bite.  This makes diagnosing and treating the disease extremely difficult if it is not caught early and treated right away.   (I have a dedicated page for Co-infections).
Research indicates that Lyme Disease can be passed from Mother to her unborn baby.  It is highly likely, according to the top experts on Lyme Disease, including my own LLMD, that it can be passed between partners during sexual intercourse.   Ticks can be the size of a pencil head and if in an obscure place on your body, may never be noticed.  Along with burrowing in your skin, they inject a numbing agent that makes it almost impossible to feel it's bite.  After being bitten by an infected tick, mosquito or other blood sucking insect, there is about a 30% chance of getting or noticing one of the different kinds of rashes that may occur after initial infection.
The Lyme rash that may occur is technically called the Erythema Migrans rash, aka "Bullseye" rash. The erythema migrans rash is classically 5 to 6.8 cm in diameter, appearing anywhere on the body. Because of the "bullseye" description to describe the Lyme disease rash, the condition commonly called ringworm is sometimes confused with Lyme disease. Uncommonly, EM may be less than 5 cm in diameter. Multiple painless EM rashes may occur, indicating disseminated infection. It can often be misinterpreted as a Ringworm rash, or just not taken seriously.  Pictured is the typical erythema migrans rash.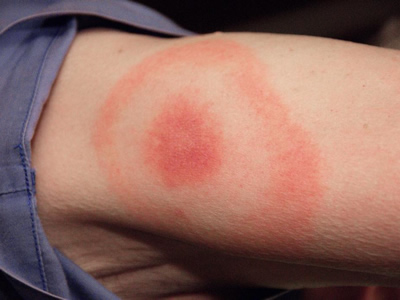 Within a few day's to a month after being bitten by an infected vector, you may come down with flu like symptoms, for example, headaches, body aches, migrating pains, fatigue and an overall feeling of sickness.  This is usually over looked and rendered not significant enough for people to see their doctor.  If you are one of the lucky ones, you have seen your rash,  and proceed immediately to your doctor.  At that point, your primary care doctor will typically prescribe you a few weeks, maybe a month of oral antibiotics.  You will probably start to feel better and go about your life, thinking everything is ok.  This is a CRUCIAL point in the life of a person infected with Lyme disease. It is highly, highly recommended that you seek out a LLMD (Lyme Literate Medical Dr) in your area. In the majority of cases, a month of antibiotics is NOT enough to eradicate the disease.  Any LLMD will tell you this. Find a LLMD here http://turnthecorner.org/content/selection-proper-physicians   In the case of not having a LLMD in your area, or state, many will travel many miles to get there.
Now, what happens if you don't know that you have been bitten by an infected agent and you do not seek that initial medical help?  The disease is IN your body.  It enters the blood stream and travels around freely to every organ in your body, including your tissue.  If left untreated, or treated insufficiently, symptoms may creep into one's life over weeks, months, or even years.  They wax and wane and may even go into remission only to come to the surface at a later date….even years later.  In many cases, it's when a traumatic event, (like a car accident, etc.) happens in ones life that the Lyme Disease, that was sitting idle, takes a hold in your body and BAM, your symptoms make is loud and clear.
Lyme disease is more prevalent along the Atlantic coast, the Midwest and the Northern California coast. However, it is spreading to all 50 states.  I'm not sure about Hawaii, but I'm sure it is there as well.
If Lyme disease is left untreated, it may progress in stages from mild symptoms to serious, long-term disabilities. There are three stages of Lyme disease: early localized, early disseminated, and late persistent, aka chronic.
Stage 1: Early localized infection (1 to 4 weeks)

Some people with Stage 1 Lyme disease will have flu like symptoms with or without a rash. These symptoms may include:
Lack of energy, which is the most common symptom.
Headache and stiff neck.
Fever and chills.
Muscle and joint pain.
Swollen lymph nodes.
Stage 2: Early disseminated infection (1 to 4 months)
If Lyme disease is not detected and treated while early symptoms are present, or if you do not have early symptoms that trigger the need for treatment, the infection may affect the skin, joints, nervous system, and the heart within weeks to months after the initial infection.
Symptoms at this stage may include:
Extreme Fatigue.
Additional skin rashes in several places on your body that develop as the infection spreads.
Pain, weakness, or numbness in the arms or legs.
Inability to control the muscles of the face (paralysis of the facial nerves).
Recurring headaches or fainting.
Poor memory and reduced ability to concentrate.
Conjunctivitis (pinkeye) or sometimes damage to deep tissue in the eyes.
Occasional rapid heartbeats (palpitations) or, in rare cases, serious heart problems.
Stage 3: Late persistent infections or chronic lyme disease
If Lyme disease is not promptly or effectively treated, damage to the joints, nerves, and brain may develop months or years after you become infected (late stage Lyme or Chronic Lyme disease). Symptoms at this stage may include:
Swelling and pain (inflammation) in the joints, especially in the knees.
Numbness and tingling in the hands, feet, or back.
Severe fatigue.
Partial facial nerve paralysis, which usually occurs within the first few months after the tick bite.
Neurologic changes, including problems with memory, mood, or sleep, and sometimes problems speaking.
Chronic Lyme Arthritis, which causes recurring episodes of swelling, redness, and fluid buildup in one or more joints that last up to 6 months at a time.
Lyme disease is rarely the only infection transmitted.  If infected, you probably have one or more Co-Infections which adds to the difficulty in diagnosis and treatment.  Please read more on this subject on my "Co-Infections" page.